Gear Design: Concept Through Manufacturing
INSCO customers don't need to shop around for a designer, then a prototype manufacturer and finally a production manufacturer. The entire process, from concept through manufacturing, can be accomplished with the same team of people, removing unnecessary training and learning curves.
We welcome the opportunity to assist in gear design from customers' concept and parameters through prototype validation and final production phase. Our proven abilities in design, prototyping, validation and volume production of the highest quality gears provides consistent benefits to our customers.
Engineering Experience
INSCO's dedicated, expertly trained engineering staff delivers a combined 80 years of gear knowledge and applied expertise. Our engineers will use their broad experience to help produce the very best products to your specifications and/or design parameters.
Every gear, spline, pulley, or assembly that we manufacture starts as a project for our engineering department. With the aid of high powered CAD/CAM systems, every customer drawing is translated into an INSCO drawing so that our shop will have a consistent format to work to, and to make sure that every stage of manufacture is governed by tolerances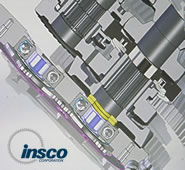 and procedures essential to the end product.
CAD and Solid Modeling Capabilities
Our engineers are equipped with the most up-to-date CAD and solid modeling systems available—SolidWorks 2012 with GearTrax . Our combined technology and engineering skills allow us to perform gear design calculations that many other companies simply cannot. Designs that are made or verified using our software systems can ensure the desired outcomes in your design projects.
Involute Design Calculations & Gear Mesh Simulations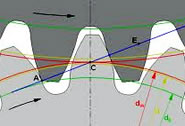 Our powerful software can simulate conjugate action exposing clearance and interference conditions in gear mesh, allow us to do simulations on gear mesh and design that most companies can not do. When designing non-standard gears, INSCO can insure that your designs achieve the expected outcomes in fit, form and features by virtually "rolling the gear train together"—identifying and eliminating any issues prior to production.
Reverse Engineering (aka Saving the Day)
What do you do when you have a gear that's fatigued or failed and need an exact replacement? Add to that challenge a lack of parts availaibilty from the OEM/Distibutor, or detailed manufacturing drawings needed to create a replacement. How do you solve this problem? Just call us, we have the solution. INSCO can reverse engineer your failed part and supply you with a perfectly "cloned" replacement. When time truly is money and your machine down-time means lost revenue, let us be your solution.