About Insco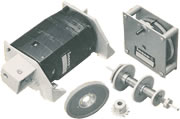 Insco Corporation (the name derived from "instruments and controls") was established in 1952. At the time, our product lines included specialized geared devices for labs and process control equipment using gears purchased from various sources.
In 1954 Insco was moved to an old building in Groton, Massachusetts, and within a year was purchased by Barry Controls, David Ammen was assigned to run the company.
By 1960 the business had grown considerably. Barry Controls purchased a tract of land in Groton and built a new 7,500

square-foot building which was to become part of our current facility. Our product lines had grown to include multi-speed drives, OEM gear units for specific customers, and process control devices for the textile and carbon-black industries.
In 1960 Insco was purchased outright by Mr. Ammen. Gary Rutherford was hired in 1966, and by 1970 he had been promoted to Production Manager. Both Mr. Ammen and Mr. Rutherford are still active in the business and serve as Chairman and President respectively.
Our first gear hobbing machine was purchased in 1964, a bench top Koepfer, along with a rolling checker for inspection. As additional machining and gear hobbing capacity were added throughout the ensuing years, the decision was made to branch out into the gear job shop arena.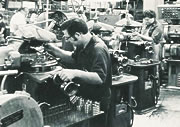 Tight working conditions prompted a 6,000 square-foot expansion in 1978, making our facility 13,500 square feet in area. This made room for additional machining and gear hobbing equipment.
In 1980 we received our first orders for coarse pitch gears from Harris Graphics (subsequently Heidleberg Web system and now Goss International Americas), which remains a key strategic partner to this day. We also added our first CNC turning equipment that same year.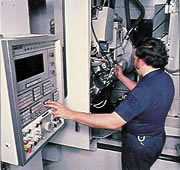 In 1982 we purchased our first CNC hobbing machine – a Pfauter P-1000 which could hob up to a 39" diameter gear. Soon after, we added a Liebherr NC-952, and other large capacity hobbing machines.
Insco further expanded in 1986 with an 11,500 square-foot addition, bringing the total floor space to 25,000 square feet. Additional capabilities in this time frame included vitreous gear grinding and analytical gear inspection.
In 1988, Insco further branched out to the automotive gear market, partnering first with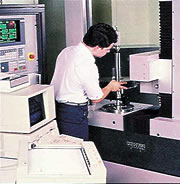 New Process Gear, and later with ZF Industries for transmission gears. State-of-the-art CBN Gear Grinding capabilities were added to efficiently produce medium to high volume ground gears. Insco was the first job shop to employ this method for grinding gears.
By 1995 we were again cramped for space and added another 40,000 square feet to our growing facility. Our current factory and modernized offices encompass 65,000 square feet.
In 2003, Insco joined forces with Baker Drivetrain to produce gears for their motorcycle transmissions. Our state-of-the-art processes allow us to produce the quietest gears in

the motorcycle aftermarket industry.
Throughout the past decade Insco has continued to expand its customer base in precision coarse ground and hobbed gears. Insco added to its capacity in 2006 with the purchase of a Hofler gear grinder, another state-of-the-art machine capable of CNC index grinding and on board gear inspection.

Insco's latest development is a "back to the future" expansion of our assembly business producing specialized geared devices similar to our original business. However, this time we are producing the devices for the robotics industry. In 2009 we started work on a design support project for iRobot and today are producing geared devices for a military robot application. Also, in 2012 we partnered with a major industrial robot manufacturer for the production of geared devices used in an industrial robot application.